The fastest ferry on the Channel is back
26th May 2023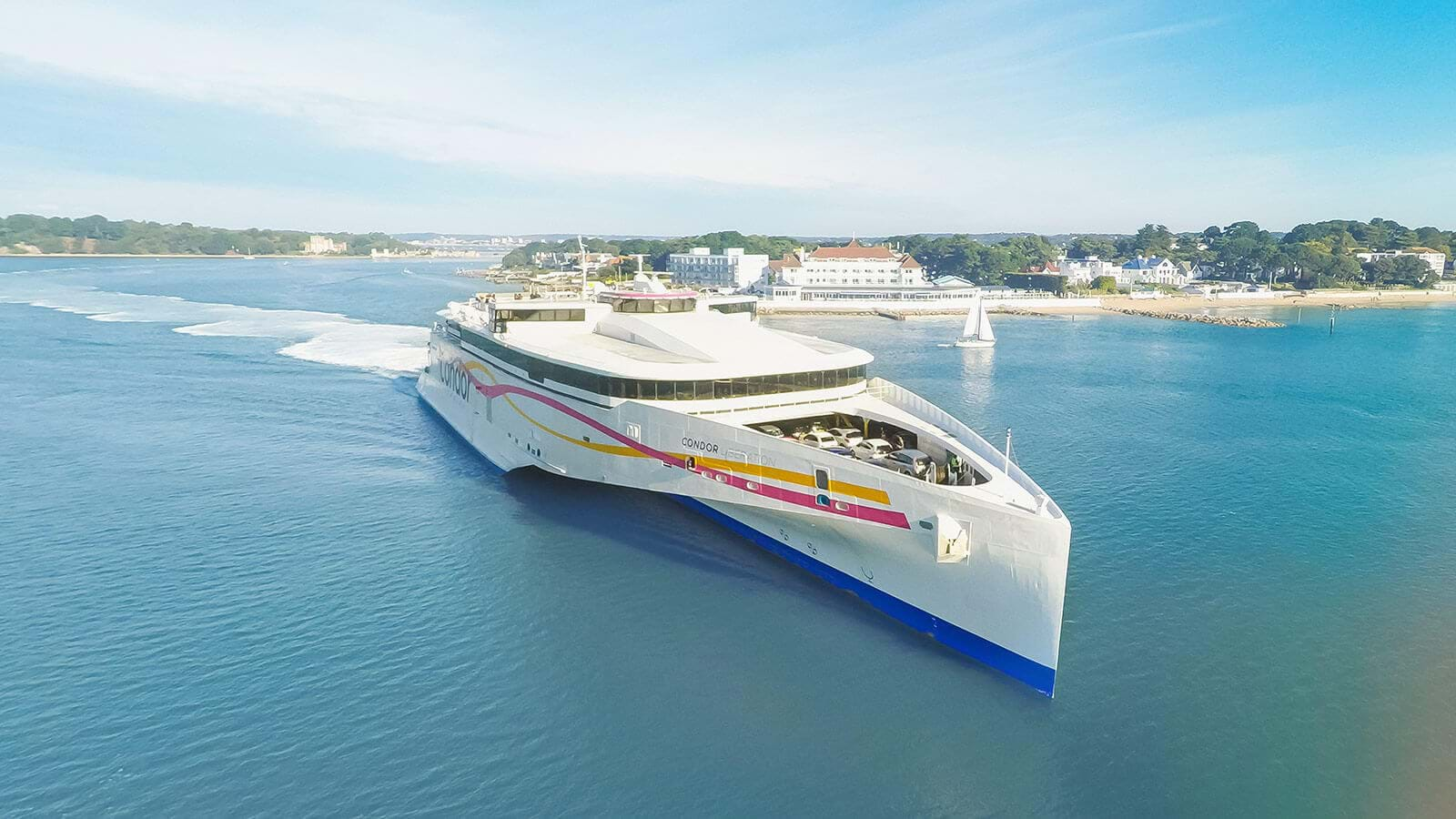 Brittany Ferries resumes fast ferry sailings for 2023 summer season.
Fast sailings depart from Portsmouth to Cherbourg and return from Cherbourg to Poole
The service will operate Friday-Sunday during key school holiday periods
Sailing time is just 180 minutes: the fastest Channel crossing west of Dover
Passengers using the service can enjoy breakfast in Portsmouth and lunch in Cherbourg
Today Friday 26th May, fast cross-Channel ferry sailings return to the Western Channel. The weekend summer service operated by the Condor Liberation fastcraft departed Portsmouth at 07:00 this morning, arriving at Cherbourg (Normandy) at 11:00. The return sailing departed Cherbourg at 11:50 and arrived at Poole at 13:35.
The service which welcomes passengers travelling on car and on foot will operate on Fridays, Saturdays, and Sundays during school holiday periods from 26th May – 4th June and from 14th July – 3rd September 2023.
Amongst the very first passengers to use the service this summer will be dozens of Normandy veterans sailing to Normandy to commemorate the 79th anniversary of D-Day (6th June, 1944).
The fast service will complement Brittany Ferries' conventional cruise-ferry routes to Cherbourg from Poole and Portsmouth, and passengers can mix and match routes, sailing out to France by fast ferry and returning by cruise-ferry or vice-versa.
Christophe Mathieu, CEO Brittany Ferries said:
"We're delighted to bring even more choice and flexibility for our customers crossing the western Channel this summer.
"These fast sailings will complement our conventional cruise-ferry services operated by Barfleur on the Poole-Cherbourg route, and our overnight sailings from Portsmouth to Cherbourg with our latest ships Galicia and Salamanca. Across our route network this summer customers will now be able to choose from up to 130 departures a week."
Condor Liberation carries 850 passengers and 235 cars, crossing the English Channel at speeds of up to 42 knots (48 miles per hour) making it the fastest ferry currently sailing the English Channel.
On board a wide range of onboard facilities comes as standard. The craft offers several spacious open seating lounges, meanwhile for an extra fee, a Club Lounge offers luxurious reclining seats, free Wi-Fi and complimentary hot drinks. The craft also offers an extensive duty-free shop, bistro café and bars.
Customers can book their summer sailings over the phone on 0330 159 7000 or online at www.brittany-ferries.co.uk.
-Ends-
About Brittany Ferries
Brittany Ferries was conceived in 1972, starting life as a freight-only service on 2nd January the following year. The first ferry (Kerisnel) linked Roscoff in Brittany with Plymouth in the South of England and carried a cargo of  cauliflowers and cognac. Since then the company has progressively launched, then strengthened its shipping routes. This year, Brittany Ferries celebrates 50 years at sea. Millions of passengers and businesses transporting goods by sea across the so-called Atlantic Arc (France, UK, Spain and Ireland) rely on the links forged over the decades. In addition to cutting congestion and emissions on busy roads, these motorways-of the sea have helped enrich local communities, creating jobs,  nurturing international tourism.
 Key figures: 
Turnover: €444.7 million last year compared with €469 million in 2018-19.
Fleet renewal: Four new LNG-powered vessels to join the fleet (2022-2025) including two LNG-hybrids
Employment: Around 2,500 employees, including 1,600 seafarers (full-time equivalent)
Passengers: 1.84 million compared with 2.5 million in 2018-19
Freight: 167,711 units last year versus 201,554 in 2018-19
12 ships connecting France, the United Kingdom, Spain and Ireland, via 14 maritime routes
12 ports: Roscoff, Saint-Malo, Cherbourg, Caen, Le Havre, Plymouth, Portsmouth, Poole, Cork, Rosslare, Santander, Bilbao.
 Press contacts: