Raise a glass to Guillaume de Normandie, the name for Brittany Ferries' next hybrid ship (… and the first king to be crowned at Westminster Abbey)
4th May 2023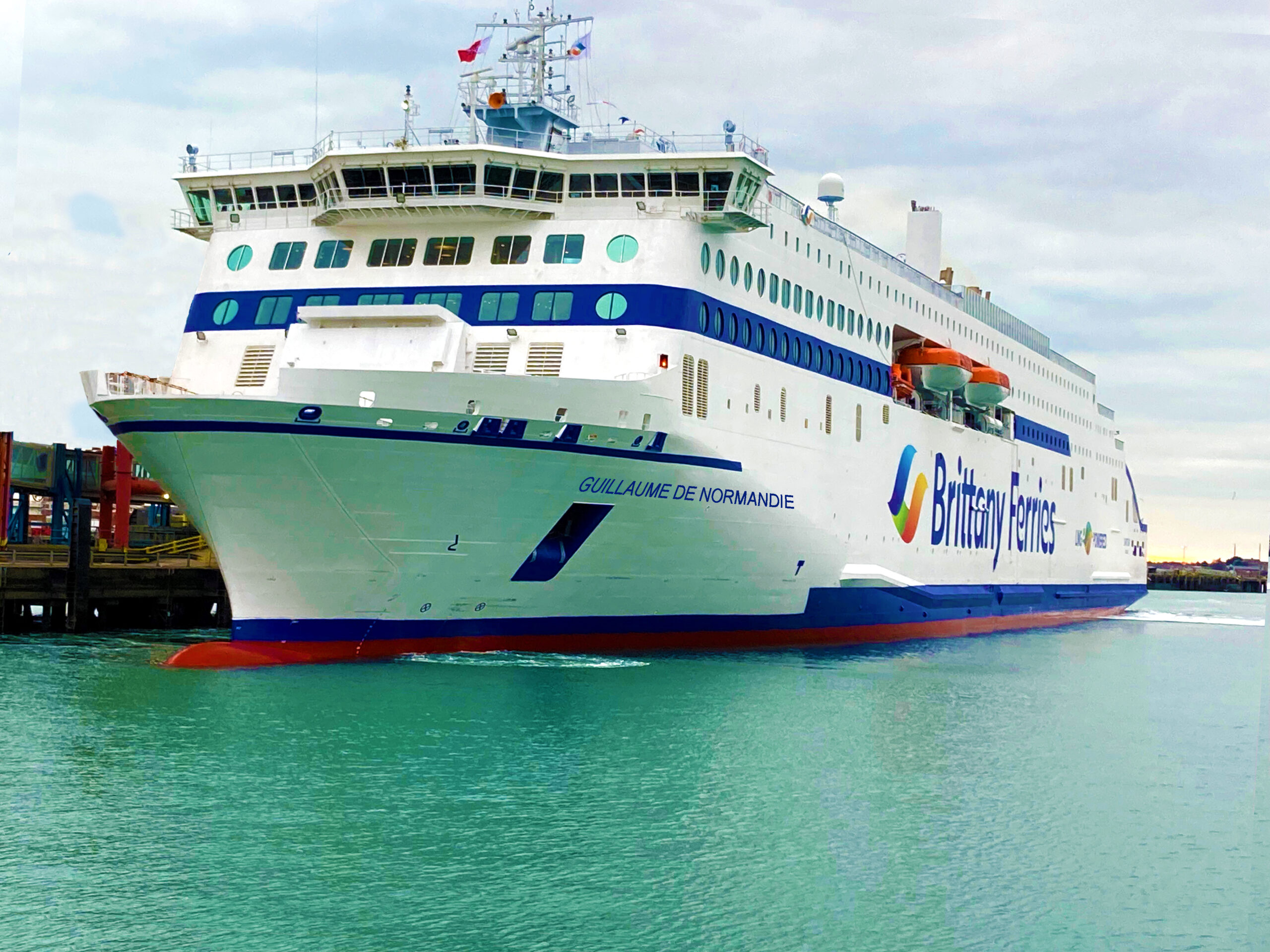 Brittany Ferries has today announced the name of its forthcoming hybrid ship, which will sail between Portsmouth and Caen. Guillaume de Normandie will be the joint-largest hybrid vessel at sea when she joins the Brittany Ferries fleet in May 2025, sailing alongside sister-ship Saint-Malo.
She will also be the fourth vessel in the fleet to be fuelled by cleaner liquefied natural gas (LNG). Powered by two 13,740 kW engines, she will be configured to run on LNG, on battery power or on a combination of the two in hybrid mode.
Guillaume de Normandie will replace Brittany Ferries' Normandie, a loyal servant sailing since 1992. The change will mark the final step in the largest fleet renewal journey in the company's 50-year history. Five new vessels will have joined the fleet between 2020 and 2025.
Caen and the King:  
The name was confirmed at a press conference held in Caen, where Guillaume de Normandie (William the Conqueror) is buried. And, in the spirit of a partnership that has endured and strengthened since the first Portsmouth-Caen sailing in 1986, the event was hosted jointly by Brittany Ferries and the Normandy region.
Today Caen-Portsmouth is the company's busiest route. Three departures a day in each direction carry two in every five passengers travelling with Brittany Ferries. Around 30 per cent of those who arrive in Normandy ports stay in the region, to visit treasures like the Bayeux Tapestry, the famous cliffs of Étretat and the Palais Bénédictine outside Fécamp. Many thousands use the route to pay homage to the brave souls who landed on five Normandy beaches during D-Day in June 1944.
"I think this name perfectly captures the enduring partnership between Brittany Ferries, the region of Normandy and the British people," said Christophe Mathieu CEO Brittany Ferries. "Guillaume was the favourite son of the Normandy region, but he was also the first king to be crowned at Westminster Abbey. In two days' time King Charles III will be the 40th.  So of course, while this is a nod to the past, it is also a celebration of our present and future together. It's something I hope all our British friends will appreciate as they celebrate the King's coronation this weekend."
Prince Charles visited Brittany Ferries at its head office in Roscoff back in 1988. He was hosted by the company's founder Alexis Gourvennec, a working farmer and one of the many farmer-shareholders who launched the company in 1973. In 2006, Gourvennec was awarded the Honorary Commander of the Civil Division of the Order of the British Empire by Her Majesty Queen Elizabeth II.
Today the farming community remain the largest shareholders in a business that is as proud of its roots in the land as it is in its achievements and routes at sea.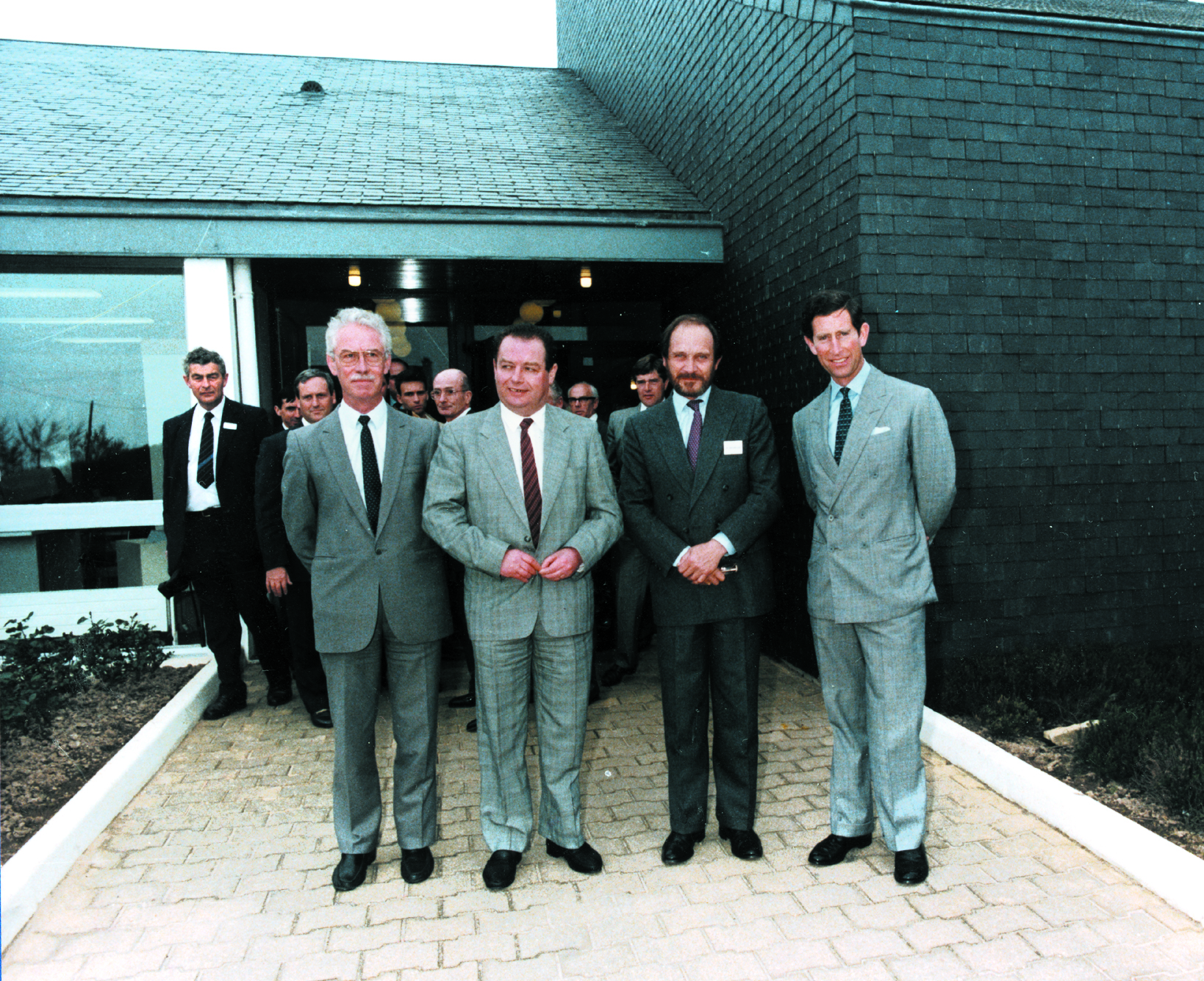 1988: Prince Charles alongside Maurice Chollet (finance director), Alexis Gourvennec (president) & Christian Michielini (managing director)
A more sustainable ship:
Guillaume de Normandie's hybrid technology will work like a hybrid car, running on fuel, electricity, or a combination of the two. Powered by cleaner LNG at sea, she will switch to LNG-electric and full-electric mode mainly on the approach to harbours and at quay. Preliminary studies suggest a fuel consumption reduction of up to 9 per cent when in service, thanks to her hybrid technology.
She will also be plug-in ready, meaning zero-emissions when alongside. The aim in Caen is to have shore-side power in place by 2027 thanks to investment by the Normandy region and Ports de Normandie. Portsmouth International Port is investing too. Plans are progressing well on funding and infrastructure development.
When Guillaume de Normandie's huge batteries can be charged at quay in Portsmouth and Caen, there will be a further estimated 15 per cent reduction in climate change emissions. That's in addition to a 20-25 per cent reduction in CO2 emissions that comes courtesy of more efficient combustion in an LNG engine.
As well as her innovative propulsion system, Guillaume de Normandie benefits from the latest innovations in naval architecture. Her hull design, for example, is long and sleek (33.5m longer than the ship she will replace) reducing energy consumption by up to 10 per cent, as well as cutting noise pollution and promising a smoother ride for passengers.
Air quality pollutants will be cut to a minimum too. Whether operating in LNG or hybrid mode, her funnel will emit no soot (particulates) and virtually no sulphur. There will also be a significant reduction in nitrogen dioxide emissions, compared with a diesel-powered ship. This means Guillaume de Normandie will be a good neighbour to those living and working around ports.
So Guillaume de Normandie will be cleaner from day one in service. And she has the potential to become even greener in the years that follow, as shore-side power is turned-on and thanks to engines that can work with e-fuels of the future like e-methane, when these are available to shipping.
On board Guillaume de Normandie:
Passengers: 1,310
Cars: 460
Freight: 120 lorries (or 52 cars + 63 lorries). 2,390 lanemetres
Cabins: 220 (including 6 Commodore suites, 32 Commodore Club cabins, 5 accessible cabins, 48 freight driver cabins).
Pet accommodation: 21 pet-friendly cabins and 12 kennels
Four restaurants and bars
VIP lounge
Two boutiques
Two children's play areas
Two engines (13,740 kW each)
-Ends-
About Brittany Ferries
Brittany Ferries was conceived in 1972, starting life as a freight-only service on 2nd January the following year. The first ferry (Kerisnel) linked Roscoff in Brittany with Plymouth in the South of England and carried a cargo of  cauliflowers and cognac. Since then the company has progressively launched, then strengthened its shipping routes. This year, Brittany Ferries celebrates 50 years at sea. Millions of passengers and businesses transporting goods by sea across the so-called Atlantic Arc (France, UK, Spain and Ireland) rely on the links forged over the decades. In addition to cutting congestion and emissions on busy roads, these motorways-of the sea have helped enrich local communities, creating jobs,  nurturing international tourism.
Key figures:
Turnover: €444.7 million last year compared with €469 million in 2018-19.
Fleet renewal: Four new LNG-powered vessels to join the fleet (2022-2025) including two LNG-hybrids
Employment: Around 2,500 employees, including 1,600 seafarers (full-time equivalent)
Passengers: 1.84 million compared with 2.5 million in 2018-19
Freight: 167,711 units last year versus 201,554 in 2018-19
12 ships connecting France, the United Kingdom, Spain and Ireland, via 14 maritime routes
12 ports: Roscoff, Saint-Malo, Cherbourg, Caen, Le Havre, Plymouth, Portsmouth, Poole, Cork, Rosslare, Santander, Bilbao.
Press contacts:
Nigel Wonnacott [email protected]
Christopher Jones  [email protected]