Portsmouth-based Brittany Ferries expands its route network in 2018
16th January 2018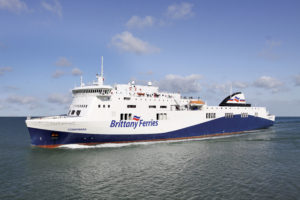 40 year anniversary of services linking the UK directly with Spain
40 year anniversary of services from southern Ireland to France
Brittany Ferries to launch first ever direct ferry link between Ireland and Spain
16 January 2018:  Brittany Ferries has today announced the launch of a new route that will link Spain and Ireland by ferry for the first time in history. It comes in a year when the company is celebrating 40 years of operations from the UK to Spain and will be the twelfth route in a network linking the UK, France, Ireland and Spain.
The service will sail from Cork in Munster to Santander in so-called "green Spain" and will start at the end of April, making two return-sailings a week.
A new ship will be chartered for the service which will also deliver an additional weekly return-sailing from Cork to Roscoff in France. She will be called Connemara and will follow the successful économie model that the company has established on services from its UK hub in Portsmouth to Spain and Normandy.
"This is a significant move for Brittany Ferries, one which follows our strategy of diversification," said Christophe Mathieu, CEO Brittany Ferries. "As a destination green Spain promises visitors a wealth of opportunities, whether they travel with us from the UK or Ireland. However, this new route will also present more options to freight companies operating throughout Ireland, Spain, Portugal and Southern France."
The ship is currently serving routes between Italy and Greece and will be chartered from Stena RoRo for an initial period of two years. She will carry up to 500 passengers with space for 195 cars. She hosts 2,225 lane metres of garage space and Brittany Ferries expects a fifty-fifty split between passengers and freight carried.
On board, passengers can expect a comfortable, no-frills service with a distinctly Spanish theme. Dining options will reflect the regions served, reinforcing the company's drive to reveal more about its destinations at every stage of the journey. There will also be a small shop and café-bar as well as comfortable passenger lounges.
Interior and exterior cabins are spacious, with beds for up to four passengers. Four-legged members of the family will also be accommodated thanks to a small allocation of pet-friendly cabins on the ship.
The new service from Brittany Ferries is expected to be on sale by the end of January.
Brittany Ferries' head office is in Roscoff, France. But its travel hub is based in Portsmouth which serves four destinations in France and two in northern Spain. At the height of summer Portsmouth hosts up to ten departures a day, including a fast ferry which makes twice-daily crossings to Cherbourg. Around seventy percent of the total 2.5 million passengers carried by the company each year pass through the port, as well as around eighty percent of total freight carried.
In addition to Portsmouth, Brittany Ferries sails from Poole to Cherbourg (and Poole to Bilbao freight-only), and from Plymouth to Roscoff and Santander.