Look forward to a 2019 European holiday with confidence, says Brittany Ferries
16th December 2018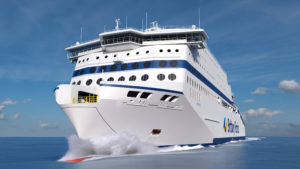 16 December 2019
Brittany Ferries has moved to reassure customers, following reports in today's Sunday Times that government is preparing to warn travellers that they should avoid European holidays post-Brexit, in the event of a no-deal scenario. The ferry and holiday company has said that, come what may, holiday-makers can look forward with confidence to their 2019 vacation to France or Spain by sea.
"Shipping operates in accordance with international maritime law, rather than European agreements," said Christophe Mathieu, company CEO. "Accordingly, there is no question that we will continue to sail as normal on March 30 2019 and beyond, even if we are facing a no-deal Brexit.
"Those who have already booked with us should be reassured and those looking to their 2019 voyage can book with confidence," he added. "Whatever happens next year, we will continue to take you on beautiful holidays to France or Spain."
Brittany Ferries has ordered three new ships post-Brexit in a €450 fleet renewal investment. The first ship Honfleur, to be powered by LNG (liquefied natural gas), arrives in July 2019 to serve its most popular route from Portsmouth to Caen. Around one million passengers travel on this route each year.
Brittany Ferries operates 11 routes connecting three UK ports (Portsmouth, Poole and Plymouth) with five destinations in northern France and two in Spain. It transports 2.5 million passengers a year and 210,000 freight units.
Although it is a French company, eighty five percent of passengers are British.
Ends.