Further schedule changes are regrettable, but necessary says Brittany Ferries
1st September 2020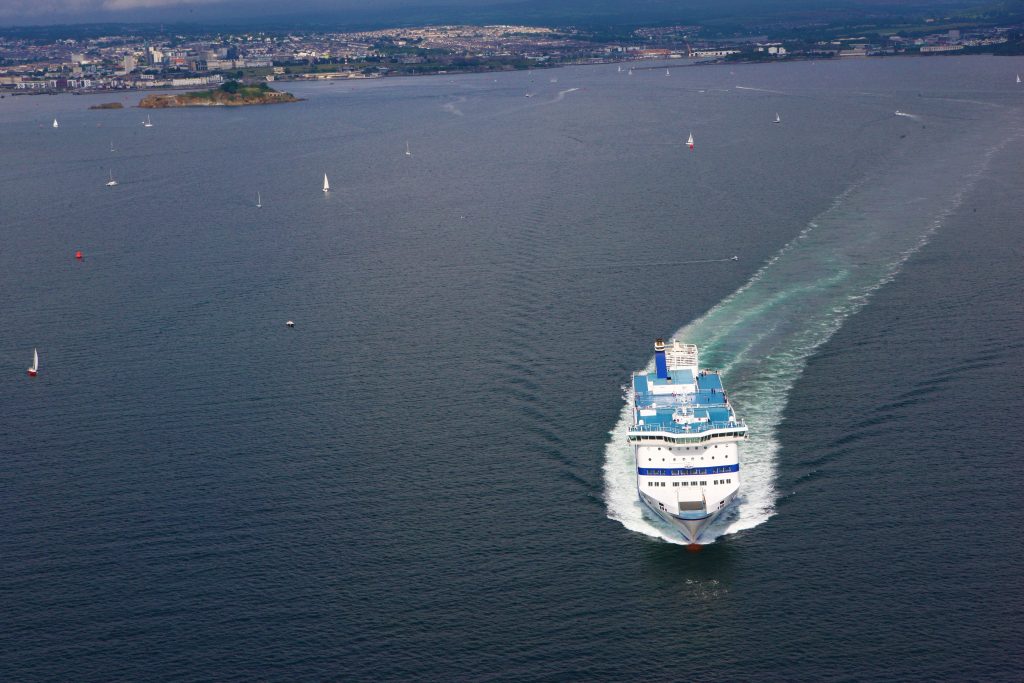 In the face of a terrible summer season and weak forward demand for services this autumn, Brittany Ferries has been forced to take further decisive action. It has confirmed further schedule changes to be implemented within the next week. The aim is to reduce costs as part of the company's five-year recovery plan.
It follows decisions by the UK government to impose quarantine restrictions on those arriving from Spain, and more recently France. This led to an immediate run on cancellations. Around 65,000 passengers have cancelled reservations since quarantine measures were announced. Furthermore, the company reports significantly weakened demand for services this autumn.
"We carried virtually no passenger traffic between the months of April and June, as the Covid-19 crisis hit," said Brittany Ferries director general Christophe Mathieu. "When we resumed, we had hoped to salvage 350,000 passengers from a summer season that would usually achieve more than double that number.
"The reality however is that we are unlikely to reach 200,000. Passenger traffic accounts for around 75 percent of our income, so our bottom line has been hit hard. It's is why we must continue to take decisive action to reduce our costs to get us through the worst of this unprecedented crisis."
The company has re-affirmed that its foundations are strong even in the fact of the worst crisis in its history. A robust five-year recovery plan is in place and the good news is that reservations for the 2021 season are strong. Around 100,000 more passengers have reserved a holiday next year, compared with those booking during the same period in 2019.
However, in the short term more passengers will be affected by schedule changes. The company apologises to all affected customers, and says it will do all it can to accommodate them onto alternative sailings:
The most significant change for September involves Brittany Ferries 'Connemara'. Currently serving Cherbourg-Portsmouth and Le Havre-Portsmouth, she will be taken out of service entirely from 7 September. Regrettably this means the closure of the Cherbourg-Portsmouth and Le Havre-Portsmouth routes.
It follows previously advised closure of the St-Malo Portsmouth route, with services terminating from 7 September. Cherbourg-Poole will also remain closed for the remainder of the year, having ceased operations at the end of March and not having resumed in June.
The company's busiest route Caen-Portsmouth remains unaffected for the next two months. Normandie and Mont St Michel will continue three daily departures as normal, with Armorique covering each ship's technical stop in November and December respectively, running in freight-only mode.
The full fleet plan for ships and routes follows:
Ship
Route
Change
Connemara
Cherbourg – Portsmouth

Le Havre – Portsmouth

Laid up from 7 September, no further service on either route until further notice
Bretagne
St Malo – Portsmouth
Laid up from 7 September, no further service until 22nd March
Armorique
Roscoff – Plymouth
Laid up from 31 August

From November, Armorique re-enters service on Caen-Portsmouth in freight-only mode, covering technical lay-overs of Normandie and Mont St Michel

She will then be laid up between Jan 2021 and end of March 2021

Cap Finistère
Bilbao – Portsmouth

Santander – Portsmouth

Service continues until a 3-month technical lay-over, beginning December.
Pont-Aven
Portsmouth – Santander

Plymouth – Roscoff

Plymouth – Santander

Roscoff – Cork

From 10 September until end of October, three return trips per week on Roscoff to Plymouth

Plus, one weekly Plymouth to Santander sailing per week

And one weekly Roscoff to Cork sailing

Barfleur
Poole-Cherbourg
No resumption of service in 2020
Étretat
Laid up until further notice
Normandie
Caen – Portsmouth
Normal service (with technical lay-over in November) continues
Mont St Michel
Caen – Portsmouth
Normal service (with technical lay-over in December) continues
Kerry
Roscoff – Rosslare

Rosslare – Bilbao

No Roscoff – Rosslare service from 7 September

Rosslare – Bilbao continues as normal

Normandie Express
Cherbourg – Portsmouth
(fast craft seasonal summer service)
Pelican
Bilbao – Poole (freight only)
Normal freight-only service continues
Galicia
UK-Spain
Enters service in December 2020
Key company figures (normal year):
Turnover: Approximately €444.2m per year
Multi-million Euro investment in three new ships, including two powered by cleaner LNG (liquefied natural gas)
Employment – Between 2,400 and 3,100 employees (including 1,700 seafarers), depending on the season. 360 in the UK.
Passengers: Between 2.5 and 2.7 million each year travelling in approximately 900,000 cars
Freight: 205,400 units transported annually, and one freight-only route linking Bilbao and Poole
Twelve ships operating services that connect France, the United Kingdom, Ireland and Spain
Twelve ports in total: Bilbao, Santander, Portsmouth, Poole, Plymouth, Cork, Rosslare, Caen, Cherbourg, Le Havre, Saint-Malo, Roscoff
Tourism in Europe: There were 854,000 unique visitors, staying 9.2 million bed-nights in France.
www.brittanyferriesnewsroom.com.
Contact:
Christopher Jones  [email protected]
Nigel Wonnacott  [email protected]