Brittany Ferries turns the tide on plastic waste
25th November 2019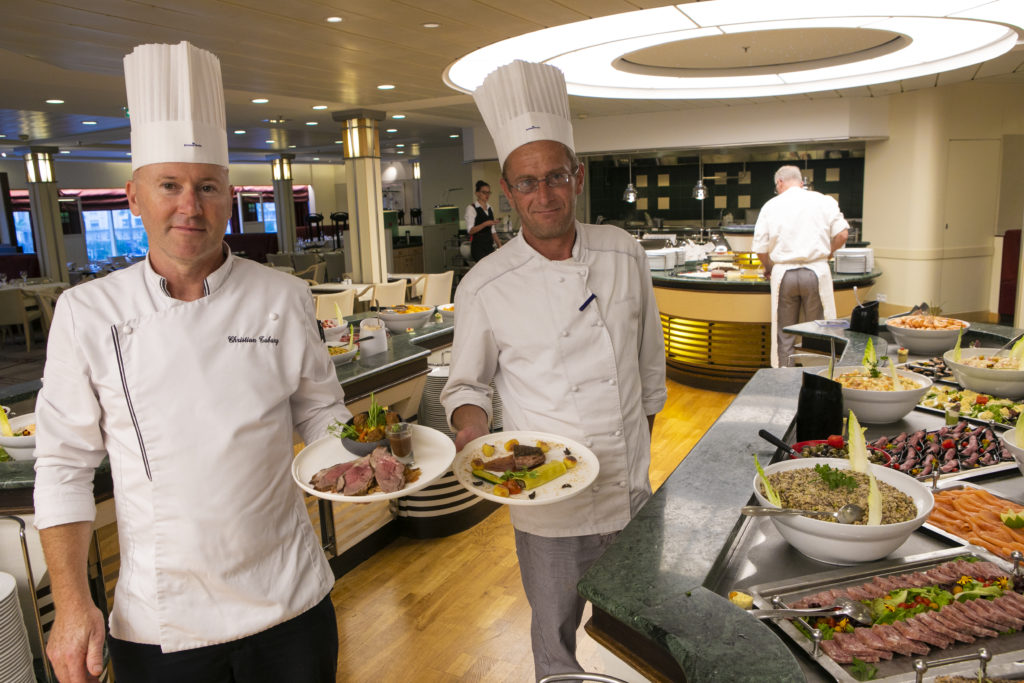 Ferry company Brittany Ferries is realising the benefits of its drive to reduce and eventually eliminate the use of single use plastics on board its fleet of ferries linking UK, France, Spain and Ireland, by purging almost 5.7 million items of plastic per year.
Over the last 18 months the company has been purging its onboard restaurants and cabins of single use plastic items, including cutlery, cups, lids, stirrers and straws.
Altogether 5,664,400 items of plastic have been eliminated per year, including over two million cups. In their place have come environmentally friendly alternatives made from bamboo, cardboard, paper and wood. If all these items were placed end to end, they'd stretch over 400 miles – the distance from London to Edinburgh.
Already the vast majority of meals consumed on Brittany Ferries ships are served on china plates alongside stainless steel cutlery, whilst most drinks are already served in glasses and china cups.
Other measures include the replacement of disposable shower gel sachets in cabin bathrooms with dispensers filled with eco-friendly gels, and the elimination of plastic bags in dustbins.
"The sea is our home, so of course we're deeply aware not only of its beauty, but also its fragility," says Brittany Ferries CEO Christophe Mathieu. "By tackling single use plastics we are determined to take responsibility and make a significant contribution to collective efforts to protect the seas upon which we sail. I'm delighted to see this project already bearing fruit."
"We couldn't have done this alone: we're working closely with our suppliers to raise standards and to find innovative and creative solutions. And we're also working with our customers and colleagues, who are increasingly driving our efforts to make changes. We want to make it easier for them to consume and recycle in line with their and our values whilst they're on board our ships."
"For sure, there's much more to do, but this is a positive step forward, part of our long term mission to incorporate sustainability into everything that we do."
In 2020 the company will renew its focus on airborne emissions when it welcomes its first LNG-powered ship, Honfleur, to be followed by two more: Salamanca in 2022 and Santoña in 2023. The trio will be amongst the first ferries of their type to be powered by Liquefied Natural Gas (LNG) offering significant environmental advantages over traditional marine fuels, burning more efficiently and producing no sulphur, virtually no particulates and 95 per cent less nitrogen dioxide.
-Ends-
About Brittany Ferries
In 1967 a farmer from Finistère in Brittany, Alexis Gourvennec, succeeded in bringing together a variety of organisations from the region to embark on an ambitious project: the aim was to open up the region, to improve its infrastructure and to enrich its people by turning to traditional partners such as Ireland and the UK.
In 1972 BAI (Brittany-England-Ireland) was born. The first cross-Channel link was inaugurated in January 1973, when a converted Israeli tank-carrier called Kerisnel left the port of Roscoff for Plymouth carrying trucks loaded with Breton vegetables such as cauliflowers and artichokes. The story therefore begins on 2 January 1973, 24 hours after Great Britain's entry into the Common Market (EEC). From these humble beginnings however Brittany Ferries as the company was re-named quickly opened up to passenger transport, then became a tour operator.
Today, Brittany Ferries has established itself as the national leader in French maritime transport: an atypical leader, under private ownership, still owned by a Breton agricultural cooperative. Eighty five percent of the company's passengers are British. Around 210,000 freight units are carried each year.
Key figures
Turnover: Approximately €444.2m per year
Employment – Between 2400 and 3100 employees (including 1,700 seafarers), depending on the season. 360 in the UK.
Passengers: Between 2.5 and 2.7 million each year travelling in approximately 900,000 cars
Freight: 205,400 units transported annually, and one freight-only route linking Bilbao and Poole
Twelve ships operating services that connect France, the United Kingdom, Ireland and Spain
Eleven ports in total: Bilbao, Santander, Portsmouth, Poole, Plymouth, Cork, Caen, Cherbourg, Le Havre, Saint-Malo, Roscoff
Tourism in Europe: There were 854,000 unique visitors, staying 9.2 million bed-nights in France.
www.brittanyferriesnewsroom.com.
Contact:
Ellis Malcolm on 02392 892 221 or 07464 980 594 or [email protected]
Christopher Jones on 02392 152 291 or 07917 540 878 or [email protected]
Nigel Wonnacott on 02392 152 273 or 07833 446 729 [email protected]