Brittany Ferries takes the lead in pet-friendly sea travel: "100,000 dogs to sail in 2018"
24th January 2018
Ferry and holiday company Brittany Ferries has reported a huge increase in the number of four-legged travellers over the last five years. In 2017 the company's ships hosted nearly 40,000 more dogs than it did just five years previously. Altogether 91,289 dogs and cats travelled in pet-friendly cabins and kennels on routes to Spain, as well as in cars on the shorter journeys to France. And the trend shows no sign of tail-ing off: the company says it expects to carry more than 100,000 dogs to travel in 2018.
Year     Dogs carried
2012    51,500
2013    60,118
2014    66,324
2015    78,966
2016    88,605
2017    91,289
"We pride ourselves on providing an easy, cost-effective way to travel abroad with your pet," said Steve Lawrie, pet passport manager for Brittany Ferries. "Dogs are the centre of many families, and a man or woman's best friend. That's why it is important that customers have the option to enjoy a holiday abroad with the entire family."
The rise in four-legged travel coincides with the Chinese New Year of the dog, which falls on the 16th February 2018. The Chinese regard dogs to be lucky animals, which symbolise success and the coming of good fortune.
With ten more pet-friendly cabins being added to cruise-ferry Baie de Seine and the April 2018 launch of Brittany Ferries' newest fleet member, Connemara, the company is ready to accommodate a record number of pet travellers in 2018. Additionally, the arrival of brand new ferry Honfleur in June 2019 will add 12 pet-friendly cabins to the company's most popular Portsmouth to Caen route.
As well as offering pet-friendly cabins and kennels, Brittany Ferries also offers a free pet goody bag to dogs travelling in a pet-friendly cabin. This includes, a pop up bowl, a bag of treats, a chew toy and three disposable bags.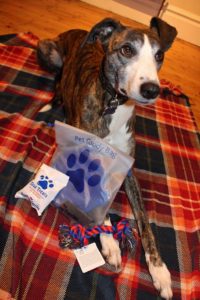 There are a number of holiday homes and gites that welcome pets in France, making travelling abroad with your dog an appealing alternative to expensive kennels in the UK. Brittany Ferries' holiday home portfolio Holiday France Direct, for example, works closely with holiday home owners in France to ensure a happy holiday experience for both pets and owners. Here are a few popular examples:
www.holidayfrancedirect.co.uk/AT004929 – a renovated barn to let with pool in Castelmoron, Lot et Garonne, Aquitaine.
www.holidayfrancedirect.co.uk/LL005165_A – beautiful Loire cottage set in magnificent woodland perfect for walkies.
www.holidayfrancedirect.co.uk/UH004563 – an 18th century gite in the Limousin.
-Ends-
Note to editors:
Ships and options for pet travellers with Brittany Ferries.
Ship
Kennels

Pet friendly cabins
Pet[s] can stay in car
Bretagne

Portsmouth- St Malo

36 Kennels
–
Yes
Barfleur

Poole- Cherbourg

–
–
Yes
Cap Finistère

Portsmouth-Bilbao

Portsmouth-Santander

12 Kennels
17 Pet friendly cabins
–
Etretat

Portsmouth- Le Havre

–
13 Pet friendly cabins
–
Baie De Seine

Portsmouth-Bilbao

Portsmouth- Santander

Portsmouth- Le Havre

–
24 Pet friendly cabins
–
Pont Aven

Portsmouth- Santander

Plymouth-Santander

Plymouth- Roscoff

Cork- Roscoff

66 Kennels
–
On sailings to/from France
Armorique

Plymouth-Roscoff

–
–
Yes
Normandie

Portsmouth-Ouistreham

–
–
Yes
Normandie Express

Portsmouth- Cherbourg

–
–
Yes
Mont St Michel

Portsmouth- Ouistreham

–
–
Yes