Brittany Ferries scoops top travel awards (two in a week)
4th December 2017
Best ferry operator for fourth year in a row – Telegraph Travel Awards
Best small holiday company to Western Europe – British Travel Awards
Brittany Ferries has scooped two respected travel awards within the space of a week. Both came following votes cast by customers and travellers, delivering an endorsement for the quality of service on board and destinations served by the company.
Brittany Ferries, which operates routes from Portsmouth, Poole and Plymouth, took the title of best ferry operator at the Telegraph Travel Awards on Friday 1 December. That came just two days after it had picked up the prize for best small holiday company to western Europe at the British Travel Awards.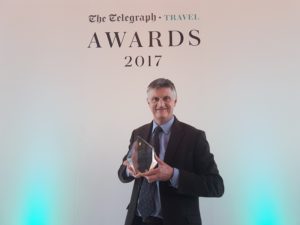 "These awards are important because they are based on votes cast by customers and holiday makers," said Richard Price, speaking from the Telegraph Travel Awards ceremony in London. "They demonstrate how much people value the Brittany Ferries experience on board, but also the service they receive when staying in beautiful destinations in France, Spain and Portugal."
This is what the Telegraph said about Brittany Ferries fourth triumph in as many years:
Most of us use the Channel tunnel and the short Dover-Calais or Dover-Dunkirk links, but the crossings Telegraph readers enjoy most are the longer routes to Normandy and Brittany (plus those down to the Spanish ports of Santander and Bilbao).
And the ferry operator which meets their expectations most consistently, and is the perennial winner of our awards, is Brittany Ferries. It has held the top spot since 2013, and its success seems to come down to three things: high quality, well-presented ships which feel more like cruise ships than ferries; excellent (French) cuisine – readers seem to feel they have arrived in France as soon as they drive up the ramp; and a great choice of ports and destinations along the north coasts of France and Spain.
Ends.
About Brittany Ferries
Brittany Ferries is a passenger car and freight service operating from eleven ports, linking four countries: UK – France, UK – Spain and Ireland – France. The company was set up by a collective of French farmers as a freight-only operator, running from Roscoff in Brittany to Plymouth with the first crossing taking place on 1 January 1973, the date the United Kingdom joined the EEC (forerunner to the EU).
The aim then was to bring French agricultural products to a wider British market. However, the service quickly developed into an operation carrying hundreds of thousands of British tourists, eager to experience the delights of Brittany and Normandy. Today Brittany Ferries is the market leader on the Western Channel for passengers and for freight. It is also a leading supplier of ferry-inclusive motoring holidays to France and Spain. Further information can be found by visiting: www.brittanyferries.com.
Contact:
Christopher Jones on 02392 402 965 or 07917 540 878 or [email protected]
Nigel Wonnacott on 02392 402 943 or 07833 446 729 or [email protected]