Brittany Ferries invests in independent security review across its fleet
3rd July 2017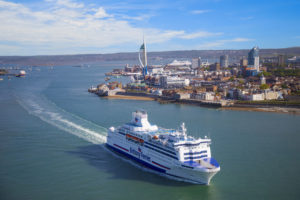 Brittany Ferries invests in independent security review across its fleet
Over the last six months Brittany Ferries has invested in a comprehensive and independent review of security on board its ships. The review led to a series of recommendations and these are now being implemented across the company's fleet of 10 ships operating on the western channel from Portsmouth, Poole and Plymouth.
The move follows the introduction of the first cross-channel 'sea marshal' patrols last summer on board Brittany Ferries' ships. Armed French military personnel were originally winched on board by helicopter in international waters, but have been travelling from port-to-port including within UK waters since the autumn. They board, patrol and disembark on foot.
The new measures being introduced by Brittany Ferries this summer include the introduction of specialist security personnel who will travel with ships on some services and who may be in plain clothes. Additional bag checks will also be implemented as passengers leave car decks and head to public spaces.
Passengers will be kept fully informed of the new measures before they travel.
"These measures are a prudent step for a responsible ferry operator and I must be clear that they are not in response to any threat," said Christophe Mathieu CEO, Brittany Ferries. "We work very closely with the authorities in France and the UK and security is already our highest priority. But I hope this significant investment will reassure passengers that we are taking all reasonable steps to ensure their journey with Brittany Ferries continues to be as safe as it is enjoyable."
Brittany Ferries carries up to 2.7 million passengers a year and 85% are British. The measures are being implemented ahead of the school holidays and will complement on-going sea marshal patrols which take place in partnership with the French government.
Ends.
A selection of high res images of Brittany Ferries' ships can be downloaded here: http://brittanyferriesnewsroom.com/image_category/ships/
About Brittany Ferries
Brittany Ferries is a passenger car and freight service operating from eleven ports, linking four countries: UK – France, UK – Spain and Ireland – France. The company was set up by a collective of French farmers as a freight-only operator, running from Roscoff in Brittany to Plymouth with the first crossing taking place on 1 January 1973, the date the United Kingdom joined the EEC (forerunner to the EU).
The aim then was to bring French agricultural products to a wider British market. However, the service quickly developed into an operation carrying hundreds of thousands of British tourists, eager to experience the delights of Brittany and Normandy. Today Brittany Ferries is the market leader on the Western Channel for passengers and for freight. It is also a leading supplier of ferry-inclusive motoring holidays to France and Spain. Further information can be found by visiting: www.brittanyferriesnewsroom.com.
Contact:
Christopher Jones on 02392 402 965 or 07917 540 878 or [email protected]
Nigel Wonnacott on 02392 402 943 or 07833 446 729 or [email protected]