Brittany Ferries crews will 'take one for the team' this Sunday
13th July 2018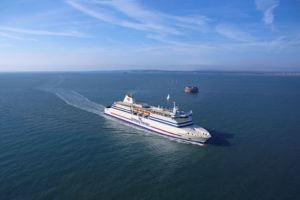 13 July 2018
Brittany Ferries crews will 'take one for the team' this Sunday
Spare a thought for all-French crews working on Brittany Ferries' ships this Sunday. Around 1,000 will be on-board, delivering regular services between the UK, France and Spain as the world cup final takes place.
The safety, security and well-being of passengers will be their first priority of course. And they will be looking after around 6,150 mainly-English passengers, many of whom will be watching the match on screens throughout the fleet wondering what might have been.
"I hope our English customers will forgive a barman if he takes his eyes off the pump to catch a glimpse of an Mbappé run towards goal," said Christophe Mathieu, Brittany Ferries (French) CEO. "But also please spare a thought for colleagues who work in other parts of the ship: on the bridge, in our shops, engine rooms and other departments. They will be taking one for the team this Sunday, for sure."
Brittany Ferries is the largest employer of sailors in France and crews on services between the UK, France and Spain are all-French. Conversely around 85 percent of passengers who travel on Brittany Ferries' eleven routes are British.
Here is the list of ships, routes and total passengers who will be travelling during the world cup final on Sunday.
| | | | |
| --- | --- | --- | --- |
| Ship | Route | Departure-Arrival time: | Passengers |
| Armorique | Roscoff – Plymouth | 1320 – 2110 |                 551 |
| Barfleur | Cherbourg – Poole | 1830 – 2245 |                 412 |
| Baie de Seine | Santander – Portsmouth | 1715 – 2145 (will just be leaving Spain) |                 369 |
| Bretagne | St Malo – Portsmouth | 1030 – 1920 |                 683 |
| Cap Finistère | Santander – Portsmouth | arriving in Portsmouth at 2045 |                 599 |
| Etretat | Le Havre – Portsmouth | 1700 – 2230 |                 311 |
| Mont St Michel | Caen – Portsmouth | 1630 – 2215 |                 765 |
| Normandie | Portsmouth – Caen | 1545 – 2130 |                 510 |
| Normandie Express | Cherbourg – Portsmouth | 1700 – 2000 |                 648 |
| Pont Aven | Plymouth – Santander | 1645 – 1215 (will have just set off) |             1,303 |
| | | | |