Brittany Ferries and Repsol pave the way for UK/Spain LNG ferry operations
22nd February 2019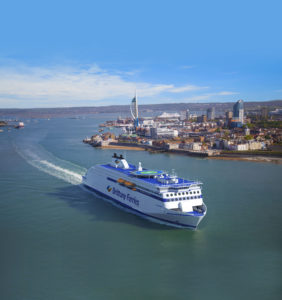 Friday, 22 February 2019
Brittany Ferries has signed an agreement with Spanish energy company Repsol for the delivery of Liquefied Natural Gas (LNG) to its Spanish operations. A letter of intent between the two companies provides the basis for the long-term supply of LNG-fuel and key shoreside infrastructure to the new LNG-powered cruise-ferry Salamanca, which is scheduled to enter service in 2022.
Under the agreement—which follows an extensive tender process during 2018—Repsol will install a fixed quayside LNG storage and supply system in one of Brittany Ferries' two Spanish ports, Santander or Bilbao. Repsol will then supply LNG bunker fuel to Brittany Ferries' Salamanca during the ship's regular visits on routes linking Portsmouth, UK and northern Spain. A final decision on the location of the terminal will be made later in 2019.
Frédéric Pouget, Brittany Ferries' Fleet and Operations Director comments: "Liquefied natural gas offers major environmental advantages compared to traditional maritime fuels, and we're extremely satisfied to be working with Repsol on LNG bunkering arrangements for our Spanish ferry operations.
"Salamanca will be our second LNG-powered ship, but the first to operate to and from Spain. Repsol's competence in the field of LNG bunkering technology and environmentally-friendly fuels along with its capacity to deliver to us makes it an obvious partner for us. This new terminal will allow for regular, flexible and reliable deliveries whilst Salamanca is alongside, benefiting our operations and scheduling. Meanwhile the use of LNG will offer much wider benefits to the environment."
Repsol's Wholesale & Gas Trading Director, Laura Rejón-Pérez said:  "We are delighted to enter into this long term agreement with Brittany Ferries, a company clearly engaged with innovation and the improvement in its environmental footprint by using LNG as bunker fuel."
"We are leaders in providing alternative, greener, fuels for maritime, air and road transport and this agreement is an exciting milestone for our growing LNG bunkering business."
Salamanca follows Honfleur (currently under construction in Germany and due to enter service late 2019) as the second LNG-powered ship in Brittany Ferries' fleet. LNG provides major environmental advantages, reducing carbon dioxide, and cutting sulphur dioxide, nitrogen dioxide and particulate emissions to almost zero.
Construction of the new ship is planned at the Avic International Weihai shipyard in China. Under the agreement between Brittany Ferries and Repsol, the supply of LNG will begin in 2022, coinciding with Salamanca's entry into service.
-Ends-