As Spain gears up to welcome tourists, plan for new Porto route is shelved (for now)
24th May 2021
24 May 2021 Press Release
As Spain gears up to welcome tourists, plan for new Porto route is shelved (for now)
Brittany Ferries has confirmed that it will not open a new route connecting the UK with Portugal this summer. It follows a week of constructive discussions with representatives in Porto, and a site visit by senior members of Brittany Ferries' technical, ports and strategy teams. However, the decision to re-open Spain to British tourists, combined with falling Covid cases and rapidly rising vaccination rates in the country, means opening a new Porto route is no longer commercially viable.
"Technically, we could open a route to Porto, but the game changed rapidly on Friday with the announcement from Spanish authorities," explained Christophe Mathieu CEO Brittany Ferries. "It simply wouldn't make sense to open a new route – and displace passengers already booked on services to Spain – if our second biggest market is open for business. We hope and expect Spain to be placed on the UK's green list at the first review in early June and for that reason we took the decision to shelve the plan."
But this is not the end. "We have been overwhelmed by messages of support from existing passengers, new customers and via social media urging us to sail to Porto," added M. Mathieu. "So, while I am sure there will be disappointment, when it comes to Portugal we never say never."
Last week, Spanish authorities confirmed the country would open for tourism from Monday 24 May and that Brits would not need to take a PCR test before arrival. Meanwhile, data continues to show a rapid rise in vaccination rates. Around half the Spanish population has now been vaccinated against Covid-19. New Covid cases have also fallen to their lowest levels since August 2020.
Vaccination rate Spain: 23.5 million including 7.7 million with both doses (Spanish population 47m)
Covid cases – Spain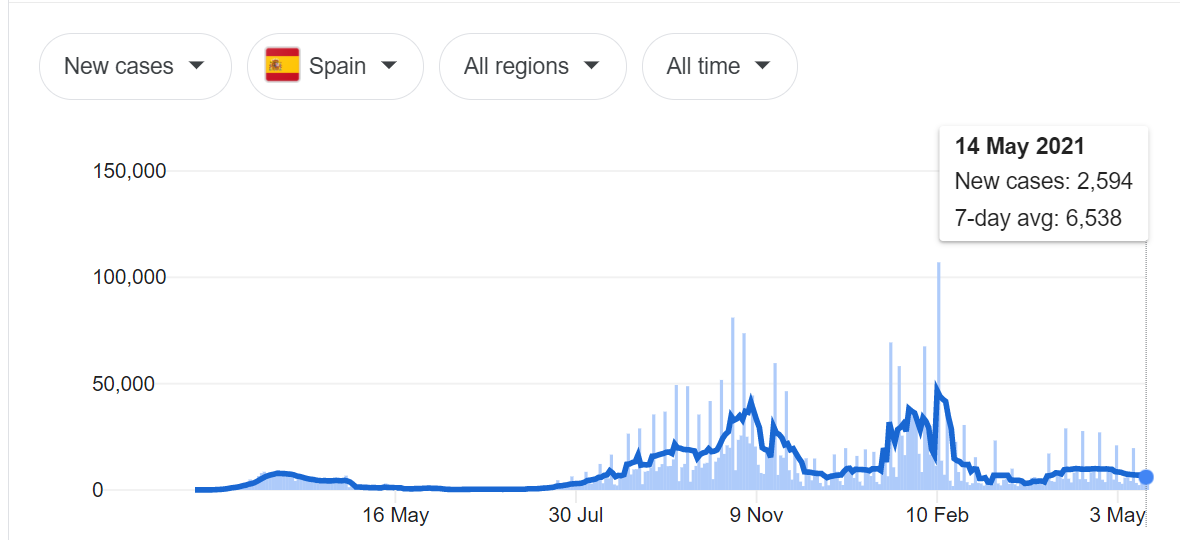 About Brittany Ferries
In 1967 a farmer from Finistère in Brittany, Alexis Gourvennec, succeeded in bringing together a variety of organisations from the region to embark on an ambitious project: the aim was to open up the region, to improve its infrastructure and to enrich its people by turning to traditional partners such as Ireland and the UK.
In 1972 BAI (Brittany-England-Ireland) was born. The first cross-Channel link was inaugurated in January 1973, when a converted Israeli tank-carrier called Kerisnel left the port of Roscoff for Plymouth carrying trucks loaded with Breton vegetables such as cauliflowers and artichokes. The story therefore begins on 2 January 1973, 24 hours after Great Britain's entry into the Common Market (EEC). From these humble beginnings however Brittany Ferries as the company was re-named quickly opened up to passenger transport, then became a tour operator.
Today, Brittany Ferries has established itself as the national leader in French maritime transport: an atypical leader, under private ownership, still owned by a Breton agricultural cooperative. Eighty five percent of the company's passengers are British.
Key figures:
Turnover: €4 million in 2020 (compared with €469m in 2019)
Investment in three new ships, Galicia plus two new vessels powered by cleaner LNG (liquefied natural gas) arriving in 2022 and 2023
Employment: 2,474 seafarers and shore staff (average high/low season in 2020)
Passengers: 752,102 in 2020 (compared with 2,498,354 in 2019)
Freight: 160,377 units in 2020 (compared with 201,554 in 2019)
Twelve ships operating services that connect France, the United Kingdom, Ireland and Spain (non-Covid year) across 14 routes
Twelve ports in total: Bilbao, Santander, Portsmouth, Poole, Plymouth, Cork, Rosslare, Caen, Cherbourg, Le Havre, Saint-Malo, Roscoff
Tourism in Europe: 231,000 unique visitors, staying 2.6 million bed-nights in France in 2020 (compared with 857,000 unique visitors, staying 8,7 million bed-nights in 2019)
www.brittanyferriesnewsroom.com.
Contact:
Christopher Jones [email protected]
Nigel Wonnacott [email protected]
---
Downloads